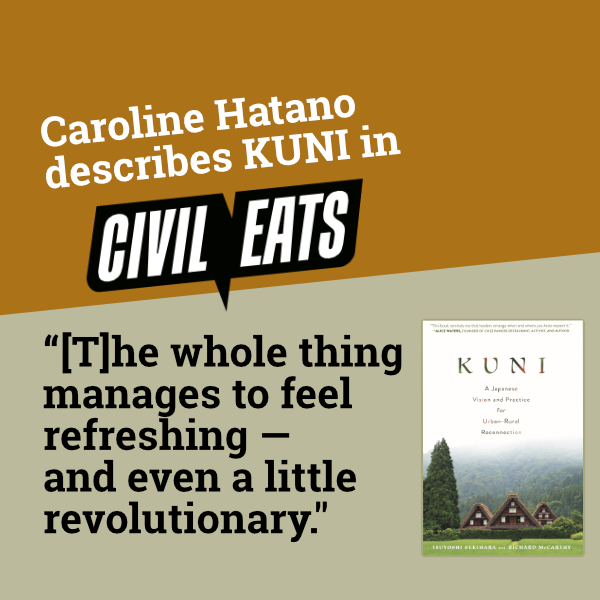 Dec 12, 2022
Kuni makes the Civil Eats Holiday Book Gift Guide
As a longtime fan of Civil Eats, it means just so much more to be included in its recommendations of nearly two dozen books ideal for gift-giving at the holidays.
It is truly an honor to keep such company! The other books recommended include George Monbiot's Regenesis, Adam Alexander's The Seed Detective, Kristin Ohlson's Sweet in Tooth and Claw, and of course, Marion Nestle's Slow Cooked. Read the full article here.
In her review of Kuni, Caroline Hatano grasps what we had hoped would translate to the wider world:
The premise of his [Sekihara's] theory—that the "bigger is better" mindset is a capitalist trap that promises only a dreary future—isn't groundbreaking on its own. But combined with his personal history, sharp insights into the modern human condition, and author Richard McCarthy's own American perspective on the power of food, the whole thing manages to feel refreshing—and even a little revolutionary.
Thank you, Civil Eats. If you are not a member/subscriber to this important publication, learn more here.
If you have not yet purchased a copy of Kuni for yourself or as a gift, learn where to find it here. If you own a copy, please consider submitting a review online to any of the online bookselling websites. Reviews help to promote the book and its ideas.