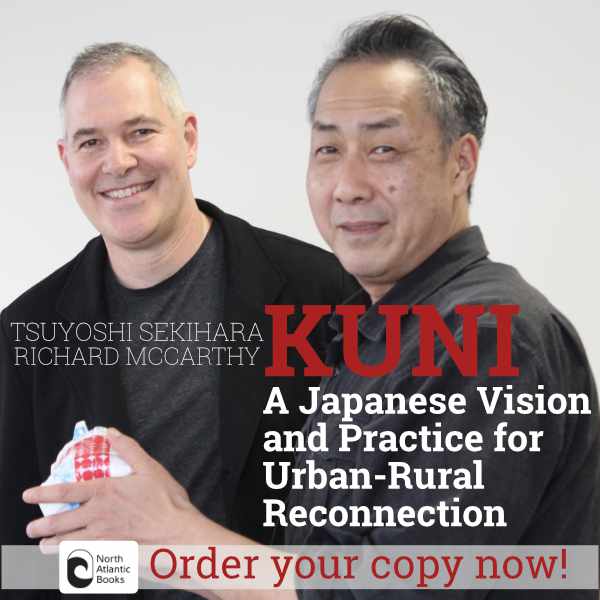 Sep 30, 2022
Kuni: A Japanese Vision and Practice for Urban-Rural Reconnection
"Kuni" is both a reimagining of the Japanese word for nation and an approach to reviving communities. It shows what happens when dedicated people band together and invest their hearts, minds, and souls back into a community, modeling a new way of living that actually works.
A kuni can be created anywhere—even within a hamlet on the verge of extinction—and embodies 7 key principles:
Everyone is equal in a kuni and each is equipped with a Regional Management Organization—a democratic organization that takes care of small public services
Kuni is a link between residents and repeat visitors
Production and consumption are in alignment within a kuni
Kuni embraces the whole person
Kuni can be a place for young people who seek interconnectedness
The time for kuni is now
This book shares a compelling vision of regenerative relationships that can take root in the United States … and anywhere. With spare and beautiful prose, black-and-white photographs, and useful principles for reviving rural places, Kuni addresses our longing for a hopeful revolution of community and everyday life.
Order copies of the book from here.
To schedule an interview, speaking engagement, etc., please download this press kit.
For a one-page introduction, to Kuni, download the one-pager.
To learn more, watch the 2019 symposium at the Japan Society in NYC; and read the post, "How You Gonna Keep 'em Down on the Farm?" elsewhere on this site.
I could spend a lifetime with the spiraling journey of Kuni. Why is this? I believe there are many. However, I think I figured out one reason. When Sekihara insisted upon the importance to cultivate repeat visitors, I immediately nodded affirmatively. I remember how after the flood waters left the city in New Orleans, after Hurricane Katrina, we were again flooded. But this time, we were flooded with people. This new demographic became known as "voluntours." Almost overnight, the city became party to a new industry: "voluntourism." It came with its complexities: rubbernecking, leering into the lives of those who have experienced trauma. However, it also spoke to a serious deficit in many people's lives: Meaning. Recently, I discussed this pull that the city has upon outsiders — individuals for whom post-Katrina New Orleans still has a psychic hold upon them — with a college graduate who first came to the city in high school to build houses, clean up neighborhoods, etc. It is this personal need for meaning that — if done with care — is something to trade on. The Kamiechigo Yamazato Fan Club is the gateway for many Tokyo residents who seek meaning. This idea can be replicated in many places. However, it takes care, vision and action.
Useful links:
Available 18 October 2022 from North Atlantic Publishers. Read more from
Seinsheimer Literary
Penguin Random House
The Japan Foundation Center for Global Partnership
The Japan Society
The Japan NPO Center