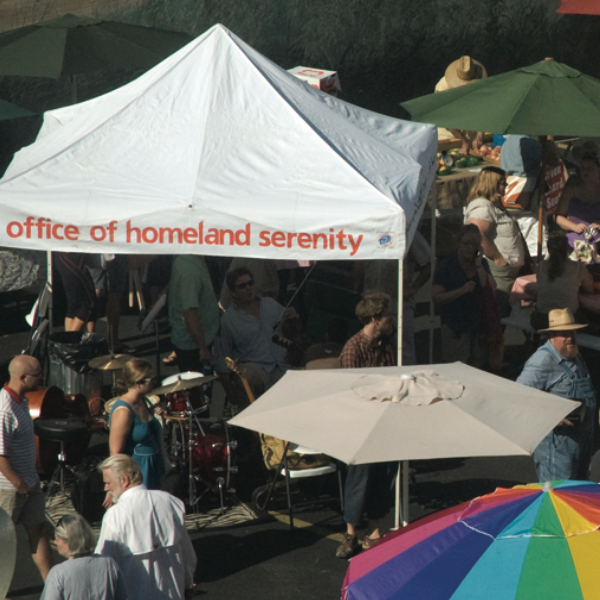 Oct 16, 2020
A market city is ...
A Market City is one that
recognizes its wide variety of public markets operating as one market system;
has diverse partners and stakeholders to take action together;
measures value and understand how markets function; has regional distribution networks;
regularly invests in its markets;
helps diverse types of vendors start and grow their businesses;
recognizes that its markets are inclusive public spaces.
These are the seven key characteristics of municipalities that operate highly-functioning public market systems according to a new initiative led by the Project for Public Spaces, HealthBridge, and Slow Food International. (See useful links at the end of this post.)
And yet, cartographers would have difficulty identifying many towns like this on the map. Few cities have yet to embrace markets as strategic institutions. Moreover, from mega-cities to small towns, few municipal decision makers can even identify the markets that flourish within their own city limits. For most markets, they operate almost outside of the norms of mainstream business development, public health or civic planning. And yet, they offer many clues to (and help shape) a region's health and capacity for social cohesion.

Despite countless attempts by local governments to condemn these ancient mechanisms of commerce to the rubbish bin, they continue to reinvent themselves to meet place- and time-specific needs. This begs the question: Are they resilient precisely because they are simple or because they are universal? Or both?

To Begin with, what are public markets?
Known by many names, public markets are recurring assemblies of independent vendors who sell the fruits of their labor directly to consumers in a public setting. While architectural differences between a market hall, shed, bazaar or souq can distract, it is important to remember that what unites all forms of public markets is the user experience: Shoppers have the power to choose from whom they wish to purchase. Whereas a supermarket or an online store sends you to one checkout counter, at the market you have many. At each transaction, you learn and forge relationships. It is this ancient technique that makes the experience in a 21st century street market similar to one thousands of years ago. It is here that community is cultivated, language evolves as cultures coalesce, and wealth is generated around the rhythms of season. While most markets revolve around food, there are flea markets, just as there are ones devoted to antiques and textiles.

And while markets themselves are not widely understood or studied, it is important to understand that the Market Cities Initiative intends to better understand and promote the ecosystem of markets in a city and its surrounding region, rather than focus upon the logistics and mannerisms of the individual market.

How did we get here?

Were it not for the unexpected rise of farmers markets in North America in the late 20th century, the steady, if not inevitable, decline of markets would have likely occurred nearly everywhere — even in the global South (where the informal street markets are the lifeblood of the economy, Le Systéme D).

Instead, a funny thing happened in North America as it careened towards the 21st century. Farmers, consumers and communities rediscovered the human-scaled institution of the farmers market. Half-starved for good food and meaningful experiences, many communities reinvented these simple pop-up public markets on village greens and city centers. In 1994, there were 1,600 farmers markets in the USA. By 2004, that number increased by 300% to over 6,000. Over the next decade, interest continued to proliferate. By 2019, there were over 8,000 farmers markets (an increase of another 180%).

This renaissance provides many emerging leaders with the tactile experiences to reformulate urban-rural linkages, the building blocks for community, and innovative methods to trigger behavior change among consumers. Importantly, these shared experiences also provide a generation of leaders with tangible priorities and allies with whom to forge new kinds of public policies that affect nutrition, ecological stewardship, and economic development.

Operating almost in isolation from agricultural policies (which tend to be envisaged at the national level), these municipal power centers bring rural farmers into urban food discussions, just as it brings urban consumers into support for rural preservation. While philanthropic and public investment began to snowball, it did so sporadically. So fractured is the public imagination for markets that many farmers markets perceived themselves in competition with historic public markets (whose place in the economy -- as pivotal for both retail and wholesale distribution — had long been eclipsed by the supermarket industrial complex) for attention and resources. It is safe to say that, for some time, the feelings may have been mutual. This is changing.

Betwixt and Between the Informal and the Formal
Operating in a sweet spot between the informal and the formal economies, the unexpected return of farmers markets in North America helped to provide the wider field of public markets with new language to revive its languishing fortunes. Forced to justify its existence to bureaucratic gatekeepers (i.e., zoning commissions, health departments, and other regulatory agencies), it is the fast and furious community of farmers markets who managed to educate the public of the value of public markets as special institutions that operate within the public trust in order to deliver a public good.

What is important to note here is that the tactile market experience (that serves the public good -- often articulated as a triple bottom line, serving vendors, consumers and the market's surrounding host community) provides the public with real-life experiences on which to hang some of the new (albeit provocative) ideas presented by thinkers whose writings challenge the heavy, formal industrial norms of national agricultural policies, global divisions of labor, and synthetic food. However, without the markets, these ideas may have remained obscure: Think of Michael Pollan's The Omnivore's Dilemma, Vandana Shiva's campaigns for food sovereignty, poet Wendell Berry, Alice Waters's edible education, Carlo Petrini's call to embrace Slow Food, and agronomist John Ikerd's concept for regional food systems to be understood as a utility, like water and electricity.

The irony is that this market renaissance occurred in the USA. Nowhere had public markets and the chaotic informality of everyday life been extinguished more fully than the United States. Perhaps it is Fast Food's near complete victory in the USA that provided the figurative "prairie" with the conditions for the prairie fire to come. When farmers markets caught on like wildfire at the turn of the century, they also came to play the role as metaphor for the kinds of lives people yearn for, but did not otherwise have the language to describe themselves. Very soon, markets were everywhere: car commercials, Food Network, fuel for culture wars, etc.

Market cities: How to sustain markets as change agents
If the farmers market revival brought with it the logic that public markets serve public good, then the next challenge is to sustain the pop-up tent and umbrella revolution. After all, if the admittedly under-capitalized and amateurish farmers markets struggle to devise robust business models with low overheads, then how on earth are the long-neglected public market sheds and halls (with roofs to mend, produce syndicates to break, and obscurity to combat) going to survive? Some repositioned themselves as treasured institutions (Eastern Market in Detroit, Pike Place in Seattle, and Borough Market in London) through innovative programming, but this could not be replicated everywhere. Many public markets languish in obscurity. If land-locked in an undesirable neighborhood, it simply rots. If, on the other hand, it has the good fortune of operating in a redevelopment zone, it may survive but with all of the complications that come with gentrification.

In the last decade, it has become increasingly clear that as food movements mature, consumers not only grow comfortable with informal activities in neighborhoods but begin to demand them (from food trucks to street markets, community gardens to outdoor dining), and a new kind of regional politics emerges, public markets can play a pivotal role to link wild ideas with practical action. They are also under pressure to be inclusive and relevant to communities marginalized by neoliberalism.

Image courtesy of Stephen Davies

Beyond the global North
While much of what has been described here pertains to life in North America and Europe, it is important to remember that these trends are also occurring in places where markets have never gone away. In the global South, markets are often perceived as chaotic and dangerous vestiges of the past: hardly appealing for emerging economies whose middle classes yearn for all modern conveniences. As a result, there exists this precarious tension between municipalities and collaborating aid agencies that go out of their way to demolish informal markets, replace them with banal brick and mortar supermarkets. It is alarming to consider that, at the very same moment, the vanguard of the alternative travel economy seeks out markets, as authentic places where flavor and originality prevail. In this regard, we are on a race against time. Many markets are endangered by war, climate change, political priorities and neglect. Consider the Souq Al-Madine in Aleppo, Syria. While the civil war all but demolished the market, it has since been rebuilt. However, this is the exception and not the rule.
Where we do see markets not only survive but thrive are places where their visibility and value have been not only recognized but also integrated into municipal priorities. In Barcelona, for instance, the Mercado de La Boqueria is more than just an art nouveau temple to Catalan food and culture, it serves as a flagship for the many markets that dot the city's landscape (providing everyday foods for families to live and shop in their neighborhoods). In fact, Barcelona is one of the places that shows evidence of being a Market City. While it may not possess every one of the seven-attributes described at the start of this essay, the municipality invests in markets when many cities have abandoned theirs. For Barcelona, the markets are beautiful (imagine your town renovating a 19th century market, like Mercado de Santa Caterina, the way they did beginning in 1997); practical; and also powerful tools for propaganda (by promoting regional biodiversity and food literacy for school children).

Mercado de La Boqueria, Barcelona — the Catalan flagship

Barcelona's market system may aptly express Catalan autonomy through shopping and the animation of shared public spaces. This municipal success takes different forms in different places. In London, where tradition itself is a valued currency, many of the city's ancient street markets are grandfathered into local ordinances, regardless of changing demographics in a city where the economy has been built upon real estate speculation, for decades now.
Whereas Catalan food culture may propel the trajectory of Barcelona's markets, it is cultural diversity that defines the public market experience in London. Few maintain strong ties to regional food systems (except for the grower-only London Farmers Markets). However, all recognize their roles as business incubators welcoming the world of immigrants who seek low-overhead entry points into the economy. This point was not lost on London Mayor Sadiq Khan, whose family hails from Pakistan. His administration established the London Markets Board to address the myriad of regulatory complications each market faces. This effort represents the kind of collaborative posture from city government that is an essential ingredient to the Market City approach. Not only does the Board assemble market leaders as peers (as opposed to competitors in an otherwise cut throat economy), but it also invests in innovation through competitive grants and the delivery of capacity building resources.
It is no coincidence that the Project for Public Spaces (PPS) staged its last two public market conferences in these two cities. As leaders in the field, PPS came to recognize that it is not enough to focus attention on the design and management of a singular market. Instead, we must begin to craft the narrative for market ecosystems. While we yearn for courage in the public sector, it is more likely to occur when visionary leaders in civil society defy the odds and assemble the stakeholders for a market system. Once in place, we develop strategies to link urban with rural, tourism with opportunity, and food sovereignty with the social safety net, for starters. However, the broader goal is to move the old markets from the hospice and into planning meetings for the future of neighborhood development. For the new and informal markets, we seek regulatory creativity to allow for the sector to flourish. At no point is this more important than now. The COVID-19 pandemic has placed inordinate pressure upon understaffed markets to accommodate legitimate concerns for personal safety in public spaces. It has also provided markets — as proponents for agility and small spaces — to shine.
Unfortunately, no one will shine if the markets are under threat of being shut down for concerns that they no longer meet the public's everyday needs or are dangerous. While large and affluent cities, like Barcelona and London, may help to show the way to elevate markets as essential institutions, the real story is in the global South. After all, it is here that the informal economy (also known as, Le Systeme D) reigns supreme. How can we legitimize the peddler, shopkeeper and stall holder in an economy that worships big money and big retail? For those locked out of the formal economy, public markets provide a way in. For those who cannot afford to live in a neighborhood of parks and recreation, markets provide de facto town squares for enjoyment, information and access to fresh food.

The visual impact of mapping your town's markets can move policy. Image courtesy of Stephen Davies
Why Hanoi excites
A collaborative of Canada's HealthBridge Foundation, New York's Project for Public Spaces and Italy's Slow Food is forging an exciting international collaborative to match the top-down investments made by governments and international aid agencies to the bottom-up efforts of residents and businesses to reimagine their markets and their municipal regions with strategies that defy conventional investment and leadership development.

To provide a glimpse into the places and strategies beginning to deploy the Market Cities strategy, consider Hanoi's wet markets in Vietnam. A city of markets, they have long defined the pace and characteristics of its many neighborhoods. In fact, by the 17th century, the city was given another name, Kè Cho, or market place. As one of the fastest growing economies in the world (and one that, incidentally, managed COVID-19 without major lockdowns), the pressures are extraordinary to meet rising consumer and developer demands. This does not bode well for markets. After all, places of exponential growth reward the highest bidder. By design, public markets are messy, complex, and there to serve those with modest means.

Local government views markets as expendable. Rather than maintain their (admittedly degraded) infrastructure, why not repurpose the high land value on which they stand and sell to the highest bidder? Recognizing that these pressures would undermine community, commerce and the sense of place for residents, community leaders joined forces with HealthBridge Hanoi to stage community charrettes involving market vendors, neighbors, shoppers, and architecture students from the university to reimagine three pilot markets: Ngoc Lam Market in Long Bien, Ha Market in Me Linh and the Chau Long Market in Ba Dinh. This unanticipated process caught the attention of local government and media, and has not only helped to reposition the three markets but markets in general. Moreover, with Hanoi municipal support, the team is now tackling changes to national policies affecting public markets.

This is the reservoir of potential the Market Cities Initiative sees right now from big cities to small villages all over the planet. In the USA, PPS is working with three North American cities (Toronto, Pittsburgh and Seattle, WA) to help market reposition themselves in the plethora of competing priorities during the COVID-19 pandemic. Interestingly enough, the act of mapping the markets is proving to be a game changer. For the first time, market operators and city officials together began to examine all of the markets — irrespective of management, governance, mission or ownership — as one system.

Similarly, in Arusha, Tanzania, the process of mapping the markets — all of the markets, informal, formal, black markets, grey markets, etc. — exposes the inadequacies of existing market coverage. Consumers, already vulnerable from chronic diseases and poverty, are finding longer walks and more complicated transport via jitneys to conduct shopping during COVID-19 shutdowns. Without the pictorial aid of mapping where the markets are and are not, city officials would have found it far too easy to obfuscate the reality of far too few markets for far too many consumers. After all, market vendors face complicated regulations, have little political power, and have (until now) found few allies who recognize their value. Instead, with researchers joining forces with civil society leaders, maps become tools to advocate for better policies.

In Conclusion
Why is this refinement of the public market strategy emerging now? Much credit is due to tireless advocates who fight for the uneasy alignment between rural farmers, urban consumers and a love for public spaces. However, there is more to it than that. As the global pandemic has revealed, large systems are struggling to adapt to rapidly changing realities. For instance, in Dhaka, Bangladesh, while the national government is no stranger to administering disaster recovery (usually floods) in a nation that straddles a river delta so vast that it covers most of the country, it struggles to adjust to this kind of disaster, it struggled to provide emergency food to the urban poor in a safe and orderly manner. Meanwhile, in the admittedly run-down wet markets, several responded rapidly and creatively by engineering social distancing on the fly. Street peddlers, often the victim of police harassment, found themselves teaming up with farmers, housing associations, and even the military to seek small-scale and simple ways to deliver and sell food to hungry urban residents.

These unanticipated bright spots during a dark year have inspired city administrations to seek new ways to trigger food commerce in local wards. Among the efforts being explored are the renovation and training for wet markets, the development of new American-style farmers markets, and online strategies that link urban with rural. Increasingly, no matter where you look, municipalities are emerging as the "right-size" point of intervention to recalibrate food policies, investments, and infrastructure to preserve biodiversity and traditional agriculture and match them with new opportunities for community, economy and a possible future to flourish.

• • •

To learn more, view the Market Cities Forum: How public markets can pump life into regional food economies and forge social cohesion (a collaboration between Slow Food's Terra Madre Worldwide, HealthBridge, the Project for Public Spaces, and UN Habitat). Originally broadcasted, Tuesday, 27 October 200, the 90 minute forum provides a current and global view of how communities are reviving their markets for territorial integrity and food sovereignty in the age of pandemic.
Other useful links:

Market Cities Initiative: The landing page includes links to HealthBridge, the Project for Public Spaces and Slow Food International, and links to other articles and reports on the subject.
Earth Markets: The Slow Food community of farmers markets
Farmers Market Coalition: The voice for farmers markets in the United States
Farm Retail Association: Formerly FARMA in the United Kingdom
National Association of Produce Market Managers (NAPMM): in the United States