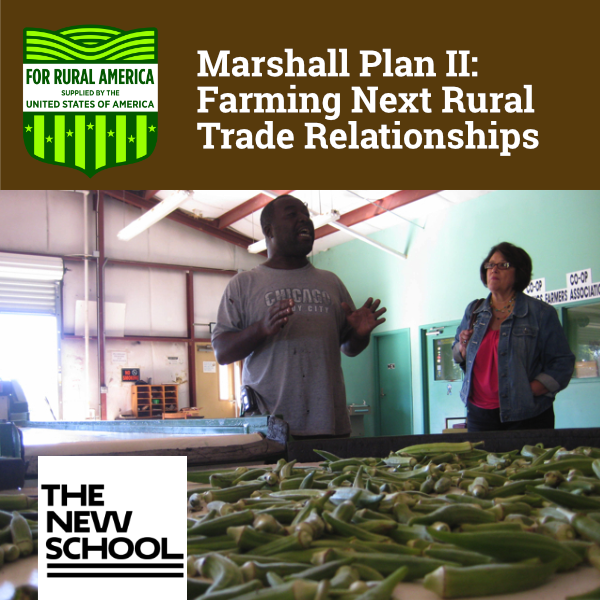 Mar 29, 2021
9 April 2021
Join the sequel to the 26 February 2021 conversation at The New School about a New Marshall Plan for Rural America.
Friday, 9 April 4-6pm ET via this link
In February, we explored the question, what if? What if farmers nourished our children instead of corporations? What if there was a Marshall Plan to rebuild rural America the way Marshall rebuilt Europe? Together with Mississippi's Ben Burkett (Indian Springs Farmers' Association and Slow Food USA), North Carolina's Emily Sloss (Self-Help Credit Union), and The New School's William Morrish, we explored how the five-tenants of the original Marshall Plan corresponds to today's domestic crises; and how Alice Waters's California concept of School-Supported-Agriculture could mean for rural communities.
Unfortunately, Ben's connectivity was stymied by the lack of rural broadband. Instead, we watched the conversation-starter film, Lunch Money, to visit rural Mississippi and see how the Indian Springs Farmers' Association's infrastructure poises the community of farmers in Petal, MS for new markets.
Join us when we continue the conversation (this time, with Ben on solid internet in Jackson, MS) with Ben and Emily to discuss in some depth the kinds of infrastructure investments needed to remove trade barriers (one of the Marshall Plan's five-tenants).
At the link above, you will find the link to the event, plus support materials.