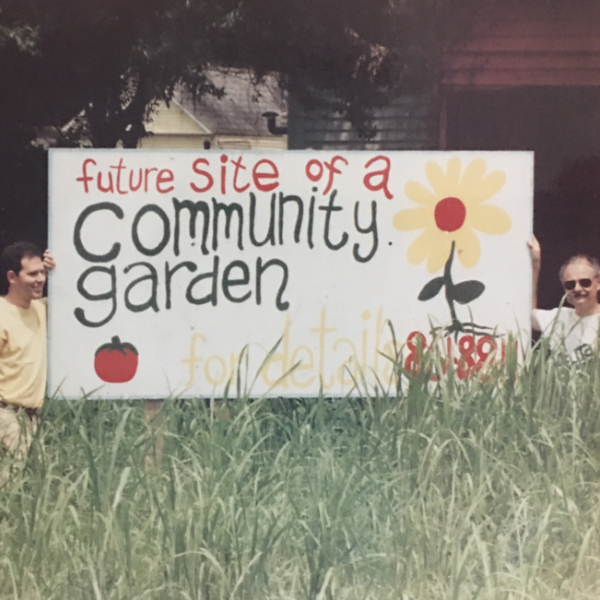 Jul 27, 2019
A garden grows in Brooklyn: part 1 (Wild Wood)
As my essay, "From Punks to Pirates," may suggest, I am prone to craft rock and roll metaphors. I believe that I have entered my Wild Wood period. What is Wild Wood? For most of my life, recording artist Paul Weller has been a steady presence. In 1993, Paul Weller reemerged after disbanding his popular group, The Style Council, whose sound had grown stale. A decade earlier, he had disbanded The Jam. Pitched as a spokesman for his (Punk) generation, in the early 1990s, Weller found himself without a record label and on his own. He recorded an LP in 1992 and began to tour. It did not sell particularly well, but he got back to basics, rediscovered the guitar and perhaps himself, and then in 1993 recorded Wild Wood. It is, perhaps, his finest and most unexpected work.

Earlier this year, I stepped down as the Executive Director for Slow Food USA. My current work is described elsewhere on this site. Six-years earlier, I had left the organization I had founded in New Orleans, Market Umbrella, to move to New York City for Slow Food. My intentions were to increase my impact upon the food movement by working nationally. Challenged to grow in so many ways, I learned so much. Today, I believe that Slow Food is more open and accessible than before. Meanwhile, I also came to realize the importance of scale and place.
In recent months, these themes have echoed around in my head. I dug up the essay I wrote in 1994 about the community garden I cofounded in New Orleans. Since the essay predates digital publishing, it does not (until now) exist online. Its relevance is this: In recent months, my wife — Bonnie Goldblum — and I have turned attention to the hyper-local. We live in a coop in Brooklyn. In the 112 units, Orthodox Jews live alongside Russian, Ukranian, Uzbek, Puerto Rican, Kazaks and others. While the secular share space with the devout, the sense of togetherness is muted, at best. And yet, together with our neighbors, we are "putting the cooperative back into the coop." We are establishing a sitting park and community garden upon the half-acre of land that has, for 20 years, sat vacant. Back to Paul Weller, this land may just be my Wild Wood. It brings me back the profound learning I experienced in the New Orleans garden and in the farmers markets that followed.

Before I dive into the current work of Pebble Park and the Waterfall Kibbutz in Brooklyn, I share with you the essay I wrote about the garden that sent my life and career on an unexpected trajectory and that today still grounds me.
Cultivating Community: Urban Gardening and Social Change

Originally published by the Loyola University New Orleans Blueprint for Social Justice, November 1994

An unused corner lot in Mid City used to be overgrown with weeds, tires and shopping carts. So, too, did the one in my uptown neighborhood in New Orleans. Today, these urban spaces, another 20 in the city, and many others throughout the country, are gathering attention from neighbors, urban planners, dreamers and children. Why? They offer a glimpse of what the rest of the urban environment could look like. The spaces in question are community gardens: Manicured, divided up into allotments on which neighbors grow vegetables, herbs and flowers. Urban dwellers are reclaiming land with the help of visionary government agencies and nongovernmental organizations from Philadelphia to New York City, Chicago and beyond.

The concept is hardly new. After all, older readers may remember the Victory Gardens during the Second World War: Citizens' patriotic duty was to become more self-reliant – to dig for victory. Compare the duty of the Cold War and the post-Cold War: Consume, consume, consume.

A veteran of countless, ideologically-charged campaigns for (but usually against) something, I am proud of my track record as a political activist. However, whether the issue relates to foreign policy, racism, or tax reform, efforts usually fall short engaging with our fellow citizens. Why? To begin with, most people are so weary of politics. And, can you blame them? Unless the canvassing issue of the day specifically speaks to a concern they already hold deeply, they tend to shun us aside. Perhaps more importantly, with so much energy devoted to organizing against ideas, we are defined by the ideas we oppose. What if, instead, we presented the ideas we propose? This is a major shortfall, and one that has forced me to revisit my choices in social change.

This essay is not a how-to guide for starting a garden. After all, templates for garden planning abound and community dynamics vary greatly from one setting to the next. Rather, I reflect upon an interesting year of community organizing where I live, in my own neighborhood.

IMBY: In My Backyard

My wife, Bonnie Goldblum, and I have grown vegetables in our back yard for several years. Unfortunately, current circumstances prevent us from altering the landscape to meet our needs for increased sunlight and space. Remembering how inspired I was by the allotment gardens I would gaze at whilst riding on trains in London as a student, I began to look at the empty lots in our neighborhood in a very different way. I remember the allotments to be both chaotic and orderly, almost in equal doses: Soft edges to an otherwise sharp city. New Orleans is full of empty lots, crying out for attention. Our neighborhood is no exception.

Drawn to the hyper-local ethos of the local social ecology group, the Delta Greens, I learned of efforts by the municipal Parks and Parkways Commission to establish community gardens with community leaders: Parkway Partners. I contacted the organization, borrowed a copy of a VHS video cassette about the positive impact of community gardening upon Philadelphia, PA, and became inspired. Almost immediately, I began to scout locations for our future community garden. I spent the next month or two working closely with Parkway Partners staff to contact landowners, identify street addresses, and communicate the idea my wife and I had for a shared space to grow with neighbors. Each of these tasks proved formidable.

The first five land owners were not at all responsive. Nothing. Even our pledge to maintain their lots, thus providing savings on maintenance costs, was not enough of an incentive for them to engage in this admittedly unorthodox relationship with strangers who pledge to take care of their land.

The sixth landowner was different. She seemed to grasp the value of transforming her land into something beautiful: a garden. I never quite understood why she got it. Did she garden herself? Or was she just tired of the property? On the market for nearly a decade, the corner lot had become a source of concern in the neighborhood. It had become what many in the city refer to as a "bad corner." You can likely picture the scenario: Drugs on offer, boarded up houses adjacent, and trash with high weeds together communicate neglect and danger.


The corner that became the garden, prior to breaking ground. Many neighbors would avoid this corner.
Check out Singleton's Market today. It has become a foodie destination.

Elated that the owner said yes, at the same time I also began to worry that this edge property may actually be too edgy. Too risky? Would the drug dealers who set up shop in front of the corner grocery opposite consider our presence a threat to their activities? What might they do? Shut us down or coexist? And more to the point of my relationship with the neighborhood, are they really drug dealers? Or, are they just hanging out because there is nowhere else to congregate and socialize?

In general, neighbors were slow to respond to our offer to join the future garden. My wife and I walked throughout the neighborhood on several warm summer evenings, speaking with neighbors who were relaxing on their front stoops and porches, drinking and making conversation. After all, life in New Orleans is lived on the street, not indoors.

We handed out flyers announcing the project and the date for an upcoming planning meeting. Come to think of it, this was the first time we had traveled down some of the streets without the assistance of a bicycle or automobile. It looked different, poorer. Our neighborhood's demographics reflect the rest of the city: Mixed income, side by side, black and white. Almost entirely residential, the neighborhood is known by several names. I grew up referring to it as the Black Pearl. Incoming homeowners think of it as the Uptown Triangle, longtime neighbors have always called it N-town. During Mayor "Dutch" Morial's administration in the late 1970s, the City updated the name of the neighborhood to reflect its quality – like a hidden pearl nestled next to the river.

After a few walkabouts, I realized that the canvassing literature was all wrong. The language was too complicated and the concept of "free garden space" simply too unfamiliar. No wonder I received the strange looks when I would walk up the steps of the many porches I visited.

Learning white privilege is important. Months later, I discovered that some neighbors were still operating under the impression that I was the land owner. Others had the impression that we were growing produce for them to pick at their leisure. Slowly, our communication skills improved and neighbors began to respond favorably to our invitation to "grow your own food."

The first improvement we made to the property was symbolic. On a bright and sunny Saturday, we replanted the "For Sale" sign that faces the street with a new message: "Future Site of a community garden." It also included our telephone number. Now, this got neighbors talking. In an act of foreshadowing, my first telephone call came from a teenager. He described his interest to "grow tomatoes for my grandma." We were delighted: A breakthrough.

Fertile ground: Social ecologist John Clark
and me in 1993 promoting the future garden

In the ensuing weeks, we held several planning meetings. Disappointingly, most of the attendees were neighbors who looked a lot like me: white, middle class and young. Our attempts at community outreach had fallen short. Things improved somewhat once the land was cleared. Parkway Partners orchestrated "Bulldozer Day." This citywide effort to clear land was underwritten by and conducted by the General Contractors Association. By this point, there were as many as half-a-dozen gardens in the works.

On the afternoon that the fence was installed, the woman who lives next door to the garden lot, Mrs. K, telephoned me to thank me. That alone, she explained, improves the personal safety for her family. As she described to me, thieves used the empty lot to store stolen goods. Her husband had purchased a German Shepherd to guard the family and the house. However, the dog's tenure did not last long. He had been killed with an ice pick. This act of terror kept the family on edge at all times.

Altering Social Relations

The soil and lumber delivery brought great excitement for neighbors. Now, it was time to construct the garden beds. At planning meetings, we discussed how best to landscape the lot. With the cleanliness of the original soil still in question and drainage always a concern with the region's subtropical rainfall, we opted for raised beds.

With all of the activity of trucks, kids came from all over the neighborhood to help us to "play in the dirt" (their words, not mine). Older kids determined it was not particularly cool to move five mounts of soil into individual beds, but younger ones joined in enthusiastically. In fact, there were moments when we did not have enough shovels for everyone who wanted to help. On their way home for church on that Sunday, I vividly recall young girls dressed in their Sunday best wielding shovels in one hand a handbag in another.

During this period, the kids demonstrated just how detached are their urban lives from the land. Some described with utter horror their feelings for broccoli or spinach. Others described with glee their interest to grow ice cream trees and pizza plants. Over the months that followed, their knowledge about and appreciation for produce increased exponentially. Similarly, my appreciation for the joys and challenges in their lives grew. Without the garden, I would have had little contact with my neighbors. I began to understand the politics of intimacy. No longer were we living entirely separate lives. Connections were beginning to bloom. The divisions of race, class and the imagined community boundaries we erect were beginning to soften.

Thanks to the garden, social relations began to lose their predictability. My world and that of my neighbors began to blend together in unforeseen ways. For instance, I had arranged to meet one neighbor at the garden, so that I could assign to her daughter and her a garden plot. Each plot measures 64 square feet. Twice, she failed to show. When I called her on the telephone, I sensed a tone of surprise and strain in her voice. She explained that she was awaiting an update from the hospital with a status report of a nephew who had been shot the night before.

On another occasion, I was introduced to the mother of one of the older teenage gardeners. Apparently, he had been talking about his garden for weeks. He dragged his mother down the street to see if for herself. She as so surprised there was something in his life more important (or at least as important) to him as sitting in front of the television playing video games. She has since joined us as a garden regular.

In one year, we have achieved what many neighbors assured me with impossible. I think back to when the neighborhood's police patrolman paid me a visit when I was in the garden one evening preparing the space for the beds. He slowly walked out of his car, idling in the middle of the street, and over to me for a private conversation: "These people aren't ready for this … They don't have any values." Aside from the fact that I wanted to throw heavy objects towards him, I quietly listened. Maybe he was trying to save me the agony that wasted efforts bring. Contrary to his (and others') gloom and doom predictions, we achieved our goal of establishing a garden.

Members of the community now grow fresh produce that supplements their grocery purchases. In Chicago, the organizer of a youth-oriented community garden — Cabrini Greens program — Jack Davis describes the project at the iconic public housing development as this: "It's such a simple thing. It's just a garden." There is great strength in simplicity. Our garden is no different.

A Garden's Unexpected Yields

I did not enter into this project as a political novice. I had and continue to have an agenda: Food sources should become more regional and less dependent upon industrial agriculture. Land should be redistributed to meet human needs. Diets should consist of more fresh vegetables, and public resources should be reallocated to improve the quality of life. My ideas have and continue to be challenged as shovel meets ground. However, even at this early stage, I did not expect to encounter so many interconnected elements to a simple garden project.

Crime prevention. I contend that especially during this historical juncture, in which rapid economic and technological changes are creating phenomenal social stress, environmental concerns will remain back burner issues in mainstream America as long as they are perceived as separate from the concerns of everyday life. We, in America, separate issues. It is rooted in liberal democracy's desire to separate political rights from economic ones, or ecological ones. If this separation occurs with high profile environmental issues, like toxic waste, then imagine how more mundane concerns like gardening will fare. Consider an excerpt from The Trust for Public Land's report, Healing America's Cities:

As examples from across the nation make clear, community green space and creation programs can make a difference. In Philadelphia, after police helped neighborhood volunteers clean up vacant lots and plant gardens, burglaries and thefts in the precinct dropped by 90 percent — about 40 crimes each month before the cleanup to an average of only four per month.

While I do not suggest that we promote gardens strictly as a crime fighting measure, their impact on crime is valid. Moreover, it marks a different approach to finding solutions to crime and gives social change advocates a means by which we enter the crime debate in a truly preventative posture. Not only do overgrown and unused urban lots serve as breeding grounds for disease, their very presence helps to determine behavior. A trash strewn lot only encourages more neighbors to dispose of unwanted waste in a similar fashion: throw it anywhere and everywhere. A smelly, garbage lot also helps to determine who will hang out there and who will not: Most people will socialize as far away as they possibly can from the stench, leaving those "up to no good" without the interference of neighborly-minded individuals.

A park or community garden also helps to determine behavior. We improve the safety of urban neighborhoods by providing inhabitants with more constructive activities from which to choose. A garden or a basketball court provides this, where as a vacant lot cannot. Furthermore, the process of establishing a garden provides neighbors with a practical opportunity in which to get to know one another. Once relationships are established, other problem-solving activities may likely follow: parking problems, dangerous traffic, abandoned houses, etc.

I feel more comfortable in my neighborhood because of the garden. I used to feel intimidated to walk down to the corner. Paradoxically, I now spend more time on that corner and feel safer. I know more people in the neighborhood by name or by face, and they know me. I suppose that the garden fulfills a function in the community, which speaks to another issue.

Developing a sense of place. Irrespective of how fanciful it may sound, there is no disputing it: Urban gardens are experiments in community development and urban planning — albeit from the bottom up. Cities are ever-changing. Unfortunately, everyday people are usually not consulted as to which changes are to take place and how they will be achieved. More often than not, forces of industry determine the geography of a city even if at the expense of human needs. This speaks to what I find so encouraging about our garden. As residents, we are redesigning the neighborhood to meet the needs of those who live there.

It also gives us the opportunity to stand back and ask questions that rarely come up in our daily lives: What is the derivation of this street's name? Or, what is the history of the neighborhood? During a discussion at one of the planning meetings, I was surprised to learn that gospel legend, Mahalia Jackson, had grown up across the street from the proposed garden. I borrowed a biography about Jackson and read with great interest the descriptions of life in the neighborhood during her childhood years. In her day, I learned that the neighborhood was referred to as Greenville — not the name I had always known it to be (Black Pearl). "Greenville," I liked the sound of that: How fitting for the name of a garden.

In the garden's first summer, the Art Council collaborated with Parkway Partners to run a job training program for high school students. Each team of students was assigned to design public art for the burgeoning community gardens. Lucky to be selected for the project, our group of students designed a beautiful mosaic displaying the name: Greenville Community Garden. Interestingly enough, neighbors questioned on more than occasion: "Why Greenville? This isn't Greenville, Mississippi." Always one for neighborhood chatter, the sign itself provides opportunity to revisit the history of the neighborhood and its namesake. Apparently, John Green was a prominent local railway executive who developed the neighborhood. It is nestled next to the Mississippi River and the railway lines that run alongside.

Hand-digging a well in Uptown New Orleans — 12 feet down, and there's water

Appropriate technology. Inherent to the organizational culture of cities, services are generally centralized so as to provide for residents. After all, this is where membership to a municipality brings benefits. Taxes underwrite services by pooling resources for the common good. Think of flood control. It is far better to manage water collectively, rather than individually (with each household constructing its own moat or levee system). Unfortunately, there are instances that centralization overlooks simpler solutions to problems. For us in the garden, it was water.

With no active meter on the lot, hooking up to municipal water is no simple feat. Not only are there the monthly bills, but someone has to sign on the dotted line and be the responsible party. No one really wanted that role. We thought of everything, including reimburse the next-door neighbor each month for use of her hose. If we were to seek financial contributions from gardeners, how much time and energy would be devoted to chasing down $5-$10 monthly contributions? In the end, the solution we stumbled upon surprised us all.

It had never occurred to me that we could simply dig a well. While it is a standard solution for water scarcity in rural areas, it is unheard of in the city. We were searching for solutions in the wrong paradigm: Public services provided by the grid, versus a path towards self-reliance. We discovered that a little-known exemption exists in the Louisiana Department of Development and Transportation code: If the well is hand dug, then no permits are required. With New Orleans's high-water table, water is near the surface (in our neighborhood, 10-12 feet down). According to Louisiana's Water, Well Rules, Regulations and Standards' Water Resource Section 1.2.1.0, "hand-dug wells are exempt from registration."

If the garden took neighbors by surprise, imagine the impact of a well. By this time, my wife and I were spending hours each week with neighborhood kids. On a first-name basis, they would hover around the garden waiting for us to come out and surprises their days. Children simply could not believe that a hand-dug well was possible. Older residents remarked how they had relied on wells growing up in the country.

Total expenses for the materials did not exceed $200. We raised contributions from neighbors and the Delta Greens to purchase a cast iron hand pump, gravel to fill the cavity we dug with shovels, mortar, rubble and bricks, and pipe to jam down into the pea gravel-filled hole in the ground. After digging for two-weekends, we had a well and an endless supply of free water. While not every city has the luxury (or threat) of such a high-water table, our experience does illustrate that often the best solution to problems are to be found when thinking simply.

Horticultural therapy. I spend my days at a job that I enjoy. However, much of it is spent staring into a computer screen. I spend my evenings and weekends attempting to get as far away from the digital life, as is possible. The healing powers of gardening are, by now, widely accepted. From personal experience, I can attest that there is nothing like getting fresh soil jammed under one's fingernails, weeding and tending plants. It is therapeutic.

I have also witness similar effects upon the children in the garden. Every on, I was doubtful that they would stick with their garden plots. Indeed, many did not. But, so many others have. One year into this new garden, there are ten young gardeners, ranging from nine to sixteen years of age. They return home heroic with bags of fresh produce: collard and mustard greens, beets, carrots, cucumbers and broccoli for parents and/or grandparents to cook.

I can only hope that the garden helps to broaden dietary habits that otherwise are likely to lead to a life of chronic diseases: fried foods from the corner store, chips, etc. It is difficult to ignore the candy and potato chip wrappers that litter the neighborhood and the garden. Even if the garden has limited effect on the kids' diets, I can safely say that it is positively impacting their self-esteem.

One of the neighborhood kids, D, who joined the garden early on surprised me. A bit of a bully himself, I did not expect him to stick with it. When confronted by other kids as to why he was working in the "white people's garden," D responded that "This is my garden." The funny thing is that he was right. It is his garden. In a neighborhood hardly free from vandalism and graffiti, the kids who roam the neighborhood on bicycles and with reckless abandon have the power to make or break a project, like the garden.

Of course, there is vandalism and theft; however, not nearly as much vandalism as I had feared possible. D (and his friends) protect the garden, promote it as something in which they are stakeholders. It is worth remembering stories from the civil unrest that rocked Los Angeles in 1992 after the Rodney King verdict. Community gardens survived relatively unscathed.

On my way home from work one afternoon, I stopped by the garden to pick up dinner. Instead, I discovered one of the teachers from the neighborhood school. She was deep in conversation with one of her pupils: a gardener. She had no idea that the garden was here. Even more thrilling for her, she discovered a secret dimension to her student's life. Apparently, he is one of her most disruptive students. From our vantage point, he is one of the more responsible gardeners. Perhaps the structure of classroom instruction does not speak to this young boy's temperament, much in the way the garden does.

For months, we — as a garden community — struggled over issues of responsibility. How best do we lock the garden gate: Lock, no lock, combination lock or keys? In a comedy of errors, we first purchased a combination lock. Within days, every child in the neighborhood knew the code. Some would run up to me to brag that they knew it. On several occasions, the lock and chain would disappear for days, only to be found on some kids' bicycle or in the gutter. Plan B, we purchased a lock and key. It has worked fairly well. The rule is this: Gardeners twelve years and older receive a key and are responsible for clearing the premises and locking up before leaving. They also get a key to the shed, where the tools and seeds are stored. For the most part, the children gardeners have risen to the responsibility. In fact, I have relied upon them to let in the media, Arts Council representatives, and other adults who required access to the garden.

In Conclusion

I was initially drawn to gardening for practical reasons. My wife and I wanted to grow more food. But like a moth to flame, I was also searching for meaningful social action (to grow something), and not just protest against something. Little did we know that what we started would change our lives. Little did we know that we would become informal mentors to neighborhood kids.

In fact, maybe it is the excitement of not knowing precisely what risks (e.g., starting a garden) might lead to that makes this work so interesting. I would not have expected the ripple effect of the garden to impact so much of our household's daily lives. Composting, for instance, is now something we simply have to do. Or consider the impact of the garden upon the neighborhood. Behind the garden, a dilapidated tiny house had sat vacant for years. Once we began to garden, our presence transformed the house from deficit to asset. It has since been purchased, renovated and now inhabited by a neighbor who had always wanted to own a house but thought it not possible to do so.

I have devoted my talents to many causes. I will continue to do so; however, I have learned so much through the patient community-building process of the garden that I have to admit it has changed me. Do I still want to tear down systems of oppression? Yes, but I learned how much more complicated it is do something, how allies are often unexpected and do not fit neatly into binary Left/Right descriptions. With each shovel full of soil, I keep hearing The Jam's refrain from the song, "All Around the World," echo in my ears: "There's no point in saying destroy, I want a new life for everyone." In the song, Paul Weller is critiquing the nihilism of Punk. Destroy is easy. To build, it requires a different temperament.
At the dawn of the 20th century, the Industrial Workers of the World popularized the slogan, "Building a new world within the shell of the old." At the close of this century, it is clear to me that the old world is a shell. Everything is changing. The old methods, ideologies, devotion to growth are stale. We need to pick up our shovels and learn how to work together and build (or maybe grow) new ways to live our lives whereby we are involved in each other's lives (in the way that garden has changed ours). Let's get our hands dirty. Develop alternative structures, big or small. While our garden may only affect a handful of residents of one, small neighborhood in one beleaguered city in North America, our actions impact people's everyday lives. By contrast, after a public demonstration, advocates return home. Changes are, very little has changed. Each afternoon that my neighbors, their children, my wife, and my new friends spend time working in the garden, we are a "growing a new world within the shell of the old."
Stay tuned for the next installment of "A Garden Grows in Brooklyn."