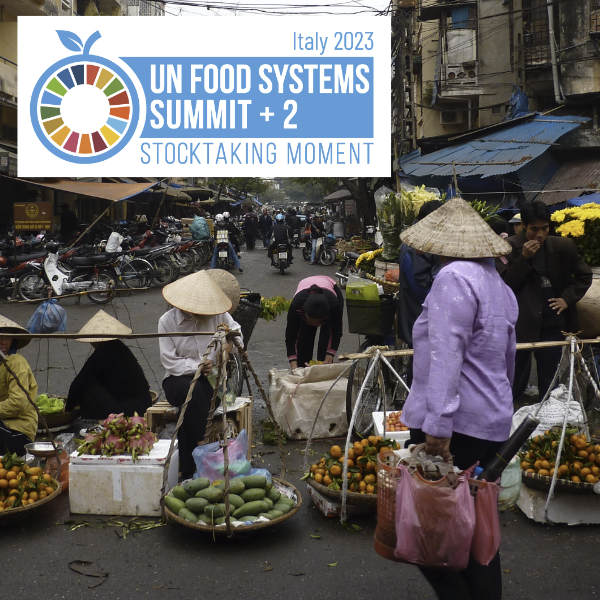 Jul 14, 2023
26 July 2023
Join me for this event, a part of the UNFSS+2 Stocktaking Moment in Rome. While in-person attendance at the FAO Headquarters is limited, online attendance is only limited to those who register. Here is where you register: link.
I am excited to be in the following roster of speakers for this side event:
Moderator
Carmelo Troccoli
World Farmers Markets Coalition (WorldFMC) & Fondazione Campagna Amica
Danielle Nierenberg
Food Tank
Dr. Giaime Berti
Resilient Local Food Supply Chains Alliance (RLFSCA)
Panellists
Biagio Di Terlizzi
CIHEAM-Mediterranean Agronomic Institute of Bari (CIHEAM Bari)
Mary Mpereh
Food Systems/SUN Technical and National Development Planning Commission
Jennifer Lester Moffitt
USDA Under Secretary for Marketing and Regulatory Programs
Richard McCarthy
World Farmers Markets Coalition (WorldFMC)
Maurizio Martina
Food and Agricultural Organization of United Nations (FAO)
Local fresh food markets are key to deliver stability, to transform food systems for sustainability and resilience, and to implement the Sustainable Development Goals. Farmers markets build economic, social, and political links between urban and rural communities. The recurring and organized farmers markets not only stimulate the local economy, but also change consumer behavior, create inclusive civic space, promote biodiversity, traditional knowledge whilst incubating entrepreneurial innovation. Our intention is to improve public policies and propose legislation, investment in infrastructure and programmatic capacities to facilitate food system transitions towards long-term sustainability and resilience.
With this event we intend to achieve a two-fold objective. The first is to build greater awareness of the farmers market model to deliver food security, food quality, and the protection of resources and communities. The second is to lay the foundations for constructive and long-term dialogue with national, regional and provincial governmental authorities for the implementation of food policies that support the organized development of farmers markets cities and towns as first steps to recalibrate the territorial social contract around local food systems that model multifunctional agriculture.
This event will take place in person at FAO in the German Room. However, for those of you who will not be attending the UNFSS+2 Stocktaking Moment in person, we warmly invite you to join us virtually at our side event — register here.
Date: 26 July 2023
Time: 1:30pm - 2:30pm (CET — Central European Time)
Location: FAO & VirtualFood and Agriculture Organization of the United Nations, Rome, Italy
You can watch the video recording of this event on YouTube: https://www.youtube.com/watch?v=6vWyFoYlAQU